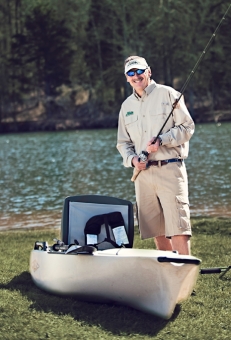 Bryan Gumbel, former host of the CBS Morning Show, best described Hank Parker when introducing him as "the rod-n-reel answer to Michael Jordan, in popularity and talent!" Hank has enjoyed a storied professional bass fishing and outdoor television host career that continues to grow each season! His accomplishments on the professional bass fishing tournament trail support the fact he is one of America's greatest bass fishermen to ever compete.
Hank's professional fishing career begin in 1976 when he began fishing the National Bass Association Tournament Circuit, winning their national championship in his first season. The following two years he fished both the National Bass Association and American Bass Association. With this success and help from newly acquired sponsors, Hank began fishing the Bass Anglers Sportsmen's Society (B.A.S.S.) Tournament Trail where he won the Bassmaster Classic in 1979 and 1989.
Also, he was the first angler to win the Grand Slam of Bass Fishing, which includes a B.A.S.S. qualifying tournament, the Classic, B.A.S.S. Angler of the Year title, and the B.A.S.S. SuperBass Tournament. Amazingly, Hank finished "in the money" in 76% of all the tournaments he fished during his B.A.S.S. career.
"Hank Parker's Outdoor Magazine" television series launched in 1985 with national syndication. The following season the series moved to The Nashville Network. The Outdoor Life Network, The Outdoor Channel, Pursuit Channel and NBC Sports. For 2015, Hank's show will air on Outdoor Channel and Pursuit Channel.
Hank and Martha Parker and their grandkids enjoy a day of fishing at the annual
Parker Family picnic.
Hank's passion for the outdoors is not limited to fishing, he has been an avid hunter his whole life. Hank has had a love for bow hunting through the years completing the wild turkey Royal slam and has harvested many Pope and Young whitetails and elk. As he built his reputation on the bass fishing circuit he was always slipping away to squeeze in a big game hunt whenever he could. His love and enthusiasm for the outdoors was shared by two of his sons, Hank Jr. and Billy "Catfish" Parker.
Out of their passion for hunting they founded "Hank Parker 3D" television show in 2005. In 2008 the guys started a mini-show on ESPN2 titled "Hunt Like a Parker." In 2013, they began airing "Hank Parker's Flesh and Blood" on Outdoor Channel.
Over the years as an outdoorsman, Hank has been honored by being inducted in the Bass Fishing Hall of Fame, the Legends of the Outdoors Hall of Fame and the International Game Fish Association Hall of Fame.
After 30 years of television Hank's track record of integrity is shown in that he still has partnerships with most of the companies he started with. Even with all of Hank's awards and successes, he is still a regular guy whose charm and wit make you realize how much he truly loves people and sharing his passion for the outdoors.