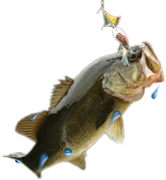 Bass Fishing Tips and Resources
At HankParker.com, you will find all you want to know about bass fishing and Hank Parker! With all the fishing articles, tips and videos available, you can spend hours learning about your favorite sport.
Find out more about Hank, when you can watch Hank on television and where Hank will be appearing next! Hank's Show Schedule lets you know date and times of premier episodes, as well as a brief synopsis of each episode. Celebrating over 30 years on television, "Hank Parker's Outdoor Magazine" airs on Outdoor Channel and "On the Water with Hank Parker" airs on Pursuit Channel.
Under Hank's BASSIN' Articles you will find a plethora of fishing knowledge that Hank loves to share with his fans. From tips on types of bait to how to catch the "big one," you are always sure to learn something new from Hank!
Entertain yourself with Hank's How-to Videos and learn something at the same time! And don't forget to check out Hank's sponsors. Ranger Boats, Mercury Outboards, Lew's, Berkley, Plano, Minn Kota, Humminbird, Sunsect, Hobie and Pennzoil are huge supporters of Hank's show and the fishing industry.